Pranayama Teacher Training - year 1 (Pranayama Lehrer:innen Ausbildung)
with Sri Sudhir Tiwari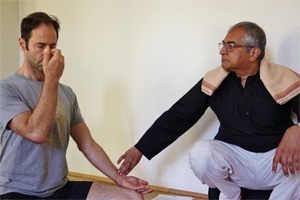 We are happy to offer a 200-hour Pranayama Teacher Training with Sri Sudhir Tiwari, an internationally recognized authority in Pranayama from August 2023 to February 2024. The Teacher Training takes place over seven months, including three steps in presence at Yogazentrum Pureyoga, two of one week and one of ten days followed by self practice, homeworks, studies etc. between the three steps.
This Teacher Training is open to people who have a regular practice of Hatha Yoga and a basic understanding of the fundamental yogic texts (Patanjali Yoga Sutras, Hatha Pradipika). Are you interested to get ready to start teaching Pranayama?
Practical Information
Objective:
Provide an authentic and authoritative training for a rigorous Pranayama practice based on the ancient scriptures and the science of Yoga according to the Kaivalyadhama lineage. This training will address
the definition
the techniques (and their variations)
as well as the results of the practice in the light of Ayurveda and modern science.
Certificate:
Participants will be assessed in theory and practice and will receive upon successful completion a certificate testifying their ability to teach basic Pranayama without breath retention. This certificate also gives the participants access to the second year of the 3-year Pranayama teacher Training at Kaivalyadhama India.
Duration:
200 hours of teaching in group over two one-week workshops and one ten day workshop (24 days in total). Regular personal practice and study are expected from the participants between the workshops. Dates and program below.
Teaching:
Lessons will be conducted by Sudhir Tiwari assisted by Horst Rinnerberger, Director of Yogazentrum Pureyoga Vienna.
Prerequisites:
Applicants must have a regular personal asana practice and a basic understanding of Patanjali's Yoga Sutra and Hatha Pradipika.
Description:
With Pranayama generating much interest in the current yoga culture worldwide and it being an immensely important and sensitive practice, it is pivotal that Pranayama be taught correctly from a traditional, technical and scientific perspective.
While yoga asana is extensively taught in the west and yoga teacher training are widely available, yoga teachers are seldom able to include relevant elements of kriya and pranayama in their yoga classes, as their training was primarily asana based.
Keeping the above in mind Kaivalyadhama has designed a teacher training where students will gain a proper understanding of Pranayamic practices from an intellectual (traditional, technical and scientific) as well as practical and experiential point of view so that they can correctly teach the same to students in various settings.
This training aims to provide students who have already acquired a basic knowledge of teaching yoga asana, with a proper understanding of Pranayamic practices from an intellectual as well as practical point of view, so that they can confidently continue to advance their own practices and teach the same to students in their yoga classes.
Non-teachers with a dedicated yoga practice and a genuine interest in establishing a sincere pranayama practice are also warmly welcomed in this training.
The overall theme of this course will revolve around the definition, the technique/techniques (and its variations) and the outcome of Pranayamic practices. The outcome will be discussed based on Ayurveda as well as modern science.
Students will be expected to learn all the Six Kriyas. Exceptions can be made in case of medical limitations.
Dates:
Step 1: 21. – 27.08.2023
Step 2: 20. – 26.10.2023
Step 3: 09. – 18.02.2024
Yoga Alliance approved as 180 h Continuing Education.
Mo,   09:00 – 16:30
Tue,  09:00 – 17:30
Wed, 09:00 – 17:30
Thu,  09:00 – 16:30
Fr,     09:00 – 16:30
Sat,   10:30 – 19:00
Sun,  08:00 – 16:00
Subject to alterations. Minor changes to the schedule are possible.
The course program:
Step 1 : 21. – 27.08.2023
·        Introduction to Pranayama
·        Introduction to essential texts in relation to Pranayama
·        Introduction to Ayurveda
·        Teaching and practice of Kriyas
Step 2 : 20. – 26.10.2023
·        Progression in learning and practice
·        Study of essential texts
·        Pranayama in the light of modern science
·        Introduction to teaching methodology of Pranayam
·        Teaching and practice of Kriyas
Step 3 : 09. – 18.02.2024
·        Final phase of the progression, introduction to breath retention
·        Study of texts and methodology
·        Fundamental Yogic therapy principles
·        Kriya practice
·        Written tests
Between every module, students are expected to put in practice the techniques and to follow the given progression. They also have to submit on time all required written homework.
Registration:
Target Group:
Traditional Yoga teachers or anyone knowing the basis of traditional Yoga. Participants must have a regular personal practice of asanas.
Prerequsites:
Regular personal practice of traditional Hatha Yoga asanas
Basic knowledge and understanding of fundamental scriptures (Patanjali Yoga Sutras, Hatha Pradipika)
Ability to stay comfortably seated in a meditative posture for 30-40 minutes
Ability to slow the respiratory rythm down to 4 breaths per minute (5 seconds inhalation, 10 seconds exhalation)
Application:
To apply for this course, please send an email to info@pureyoga.at  with the following documents attached:
A recent photo of yourself where your face is clearly visible
A copy of your Yoga teacher certificate / diploma if you have one
An essay – minimum 1000 words – explaining your understanding of traditional Yoga based on clear references to the scriptures
A detailed description of your personal practice
A motivation letter explaining why you would like to enrol in this course
If you are accepted as a participant, we will send you the registration form. This form must then be completed, signed and returned to us.
Your place will only be confirmed once the signed form and payment has been received. Thank you for your understanding.
For questions about training, content, procedure or details about the training, you can contact Horst at any time by Email or Phone (+43 699 815 99 283).
Please always include your phone number to your Email. Thank you!
Attention: The number of participants is limited. Places are given "First come, first serve".
Fee:
€ 3.150.- Early Bird for application + deposit payment before 01.02.2023
€ 3.450.- € regular Course fee
The price does not include: books, transport, accommodation and food during the workshops.
For participants who live outside Vienna and the surrounding area, the studio is available free of charge for overnight stays.
Payment:
€ 650.-  deposit at registration to book a place
+ € 2.800.-  for regular application, paid 30 days before the course starts.
+ € 2.500.-  for Early Bird application, paid 30 days before the course starts.
We are also happy to offer you an individual payment by instalments. Please contact Horst for this.
Location:
Yogazentrum Pureyoga
Einwanggasse 12/1
1140 Wien
Organiser:
Pureyoga e.U,
+43 699 815 99 283
Cancellation conditions you will find in the registration form that is sent to you.
With the completed registration the cancellation conditions are accepted.
About Sri Sudhir Tiwari
Sri Sudhir Tiwari is the eldest son of our beloved and highly respected teacher Sri O.P. Tiwari. Sudhir was brought up at Kaivalyadham Yoga Institute, in Lonavala, India, amidst rich traditional yogic heritage of Swami Madhavdasji Maharaj, Swami Kuvalyanandaji and Swami Digambarji. Swami Digambarji initiated Sudhir in 1981 and accepted him as a disciple. Sudhir received his primary and advanced Yogic and Ayurvedic training from Swami Digambarji which included the study of traditional texts, mantra yoga, fire ceremony, pranayama and various aspects of adhyatm (spiritual) yoga.
Sudhir also learnt pranayama and Hathapradipika from his father. When you meet Sudhir, you will know he has lived and breathed yoga his whole life. He is such a humble, yet energetic and enthusiastic teacher with a mastery and knowledge of yoga you won´t be able to find very often. In his workshops you cannot only explore the tradition but also the scientific reasoning behind why we do the yogic practices. We will also be looking into ayurveda, yoga's sister science, and why they are synergistic.
Sudhir held workshops at Pureyoga once a year since 2013. Instantly he could gain a crowd of fans. Now we are very happy to welcome him again in 2021 for a workshop at Pureyoga.